A key to fully enjoying bulk purchases is using all of your bulk purchase. Recently, I learned a trick from "America's Test Kitchen" that has not only saved me money, it's enhanced my cooking. That special trick is the recipe for preserved lemon.
A five pound bag of lemons can seem overwhelming at first, but now that I've learned this trick, I prepare and preserve the lemons several weeks in advance and it keeps for months in the refrigerator.
These preserved lemons can be used in any recipe calling for lemon. The flavor is stronger and fresher than a fresh lemon. Really.
The first step in preparing the lemons is washing them then using a mandoline to slice them thin. While slicing, remove the seeds from the fruit. Next, add sugar, salt and olive oil. Jar and let sit for 4-6 hours before refrigerating. After 2 weeks of mellowing, these lemons will be ready to use in your favorite recipe. Even if the recipe calls for juice only, chop the rind finely and add for extra flavor.
For a full five pound bag of lemons, the quantity of ingredients is:
5# lemons, 1-1/2 cup sugar, 1-1/2 cup salt and 1/2 cup olive oil.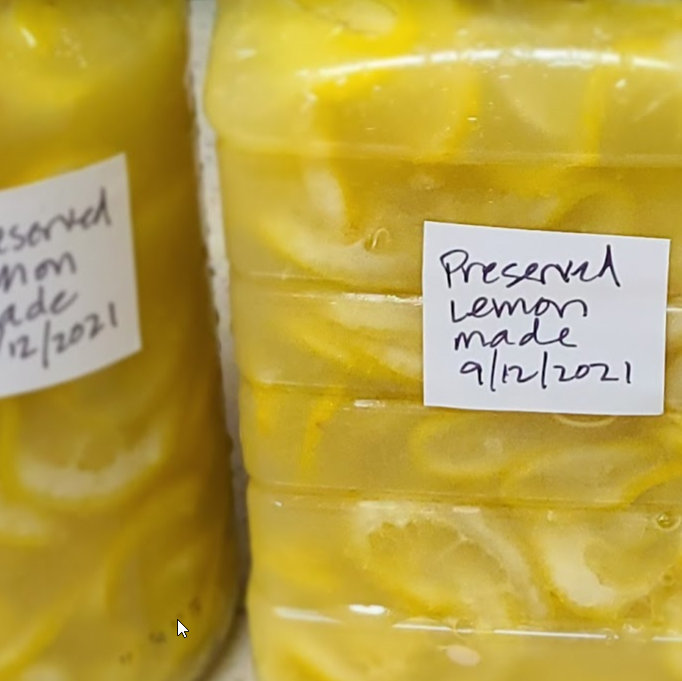 For a smaller quantity:
3 lemons, 3 Tablespoons sugar, 3 Tablespoons salt and 1 Tablespoon olive oil.
Large quantities of food can be daunting for a single family household, but if you spend some time with food preparation, you'll save money and add convenience too. For tips on how to store a warehouse sized bag of garlic, check out this article: Warehouse Club Tips: Garlic.