In these tough times, no child should go hungry. If you need a meal for your child, the Hawaii Department of Education, in conjunction with the USDA is offering both breakfast and lunch at select school locations.
No identification is needed, and "
The [selected schools] will be providing breakfast and lunch free of charge to children 18 years or younger, regardless of eligibility for free or reduced price meals. Parents or caregivers who pick up a meal must be accompanied by a child, according to USDA requirements.
As of March 23, 2020 here are the locations:
[breakfast and lunch locations pdf here]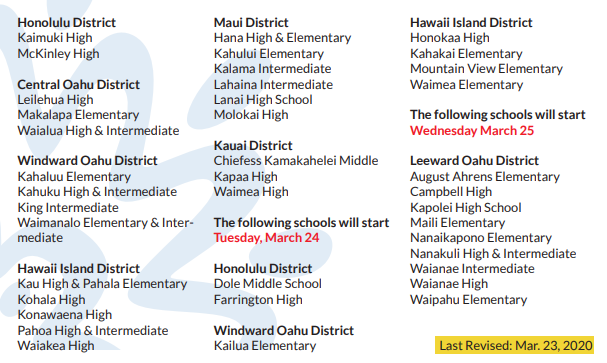 Meal locations nearest to Hawaii Kai are Kaimuki High and Waimanalo Elementary & Intermediate. In the interest of safety, there will be no personal interaction between HIDOE employees and the community. All meals will be placed in containers. Meals will be located outside of the cafeteria, preferably closest to a driveway or other natural access point on the campus.