As a parent, you may be wondering what all the fuss over this International Baccalaureate (IB) program is.
The International Baccalaureate Organization (IBO)
First, from the IBO website:
The IB offers an education for students from age 3 to 19, comprising of four programmes that focus on teaching students to think critically and independently, and how to inquire with care and logic. The IB prepares students to succeed in a world where facts and fiction merge in the news, and where asking the right questions is a crucial skill that will allow them to flourish long after they've left our programmes.
In plain English, the IB program is one that schools apply to be a part of, demonstrate their ability to execute and then pay the International Baccalaureate Organization to belong to.
Without intending insult, it is like opening a Krispy Kreme store. As an owner (franchisee), you have to demonstrate the means to make the store happen, and you need to train staff in the Krispy Kreme culture. Equipment and human resources must be up to standards set by the franchise and there are continuing fees for belonging to the brand name. On the plus side, it helps consumers, i.e. colleges, know what they are getting — a fresh and desirable product that has continuity across locations.
Like any franchise product, the desirability of the IB name likewise varies across both countries and universities alike. In Japan, the IB name carries great weight. In the US, perhaps less so. Among American universities, some colleges will give a student as much as one year worth of college credit for IB coursework. Others will give weight to the difficulty of the curriculum, but no college credit.
What does this mean for the Kaiser Complex?
Other than Le Jardin, a private school in Kailua, The Kaiser Complex is the only Primary Year to Diploma Programme IB track available in Hawaii.
Within Hawaii's Department of Education Complex, Aina Haina, Hahaione, Kamiloiki and Koko Head Elementaries are ALL IB schools in the Primary Years Programme (PYP).
They feed students into Niu Valley Middle School, an IB Middle Years Programme (MYP).
From there, the majority of students in the geographical area are fed into Kaiser High School which begins with the middle years programme (MYP) then offers two programmes, one named the Diploma Programme (DP), and the other called the Career-related Programme (CP).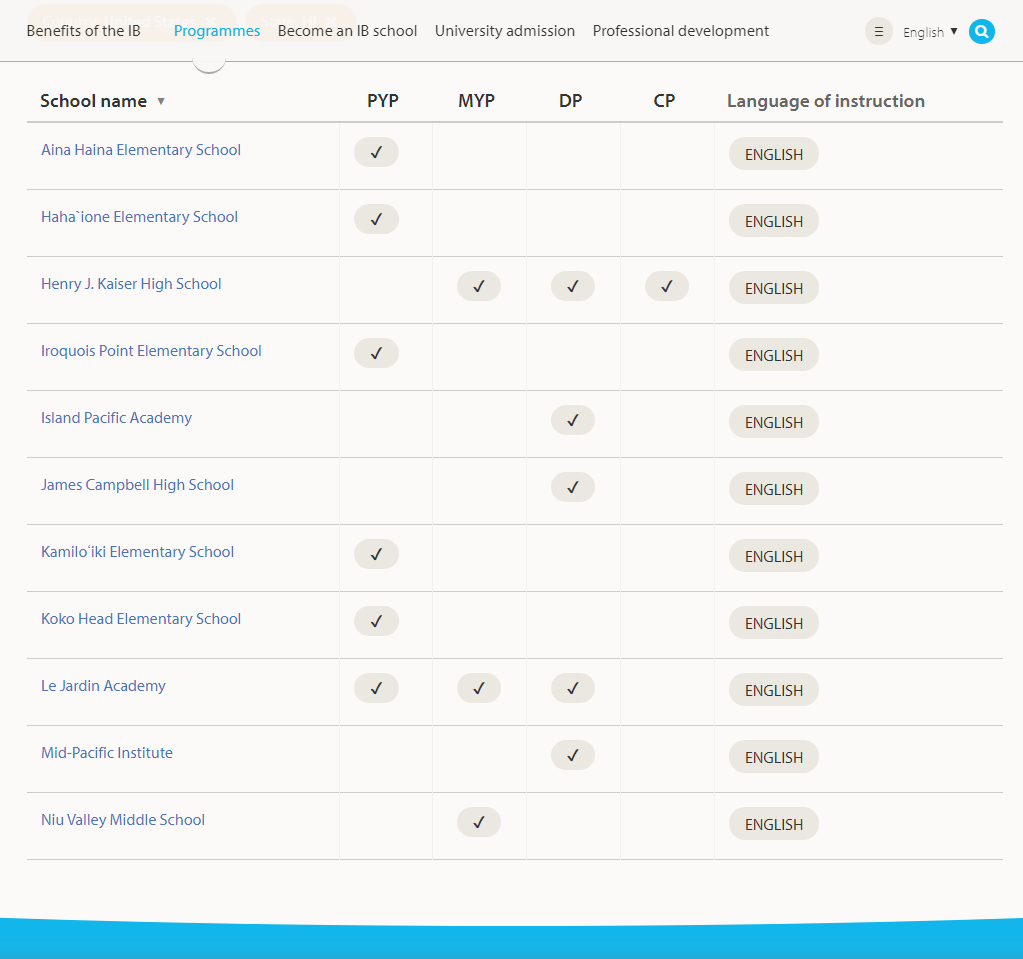 While attending Kaiser Complex elementary schools, all students are IB primary years programme (PYP) students. Likewise, all Niu Valley students are IB middle years programme (MYP) students.
Once the students enter Kaiser High School, they are placed in the International Baccalaureate program for grades 9 and 10, as part of MYP. In grade 10, students are asked if they wish to apply to the Diploma Programme (DP), the Career-related Programme (CP) for grades 11 and 12. If they choose neither, they are no longer in the IB program and may continue along with a standard high school curriculum toward graduation.
On a side note: Somewhat confusingly, if your child is a freshman in the college-preparatory AVID program, they are told they can either opt for AP or IB. What I surmise this means is that the AVID program is giving them the option of taking a college path of Advanced Placement courses or– in grade 10– opting to take the International Baccalaureate path of either DP or CP for their junior and senior years. As it turns out, Kaiser has an entire website dedicated to their International Baccalaureate curriculum and the paths available to students. You can access it at
http://www.kaiseribdp.org/ .
The Kaiser IB webpage on University Recognition is telling not for what it shows, but for those it does not show. That is, the picture of the International Baccalaureate Diploma Programme graduating class of 2019 has three dozen students, or less than 1/10 of total Kaiser graduates.
The program is intense and not suited for all high-schoolers. However, those that do apply themselves benefit from the brand name, as evidenced by the list of schools to which they were accepted. Relative to the price of approximately $1,000* which parents are asked to pay, the benefit is great.
===============================================================
* On its website, Kaiser notes an approximate figure of $750 subject to change. James Campbell High School's application specifies the exact figure for 2018 of $920. Campbell HS also notes that subject to funds availability, students eligible for free or reduced lunch may have fees waived. This is a Hawaii DOE policy; the same fee waiver applies to Kaiser.